TOURNAMENT HIGHLIGHTS
Our twelfth annual event went very well, excellent weather, and outstanding turnout of family friends.
Friday evening many of the golfers, family and friends gathered for the Welcome Dinner at Montego Bay Restaurant. A good time and many stories were exchanged, as well as the events in their lives over the past year.
Saturday morning, 132 golfers teed it up for the first day of the scramble and the scores turned out to be very close for several teams again.
Saturday evening everyone gathered at the Hombre Golf Club for the putting contest. This is a fun event for everyone – even the kids. It was enhanced this year with a contribution from Ron and Susan Bigus, with a cash prize putt-off. It was a fun evening and another way we could raise some extra money for the kids.
Sunday morning dawned as beautifully as ever and our family and many of our relatives and friends attended as Mass at St. Bernadette's Catholic Church in memory of Jeff.
At noon, all the golfers gathered for the final round of golf in great anticipation of being crowned "Champions."
After a round of great shots and outstanding play, the team of Tommy Cooley, Mike Nichols, Dennis Evans, and Joe Yoachim emerged as the 2006 Champions.
At the conclusion of golf, everyone gathered on the Terrace for our steak dinner, prize drawings, and special event winners.
Our heartfelt gratitude and thanks goes to Dan McGrath, Club Manager and Paul Sylvester and his entire staff for the dinner and all the extra effort they all put forth during this event.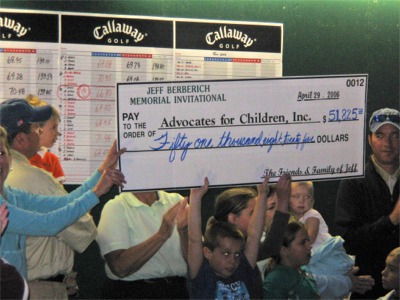 Finally, after dinner and the awards, we had the distinct honor of presenting to the Advocates for Children. On behalf of all of you who contribute in so many ways, a check in the amount of $51,825.00 was guve to the Advocates for Children!




This was the largest amount we have ever raised. Thanks to each and everyone of you who have supported this event year after year… Our family is truly grateful for your involvement, support, and contributions of everyone, local businesses, sponsors, volunteers, and participants!

JEFF AWARD

The 2006 "Jeff Award" was presented to Sid Taylor who has embraced this tournament from the very beginning and has contributed many items and Budweiser Beer for our event.




WINNING TEAM

Winning team was Tommy Cooley, Mike Nichols, Dennis Evans, and Joe Yoachim.




SHOOT OUT

Twenty golfers gathered for a shot at being the shootout champion.
A Division:

David Lynn

B Division:

Mike Berberich
SPECIAL AWARDS


Tiger Woods autographed framed Masters Flag

John and Irene Bogue from Palmer, Alaska.