| | |
| --- | --- |
| | ANNUAL TOURNAMENT HIGHLIGHTS |
April 27 - 28, 2002


Tournament Highlights | Winning Team | Shoot Out
TOURNAMENT HIGHLIGHTS

The 8th Jeff Berberich Memorial Invitational Golf Tournament was held April 27th and 28th 2002. The tournament drew 140 players and a $32,700 check was presented to Advocates for Children.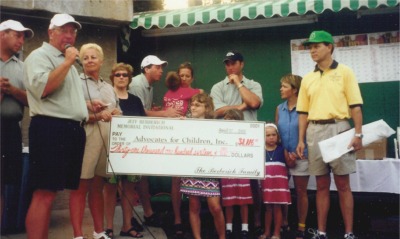 Friday evening some of the golfers and their families and friends gathered at the Montego Bay Seafood House for the annual "Welcome" dinner with the Berberich Family.

Saturday brought great weather and the golfers registered and received their "goodie" bags, hats, or visors and the driving range was packed with eager golfer practicing and players ogling the 2002 Buick that was on display for the golfer who would possibly make a hole-in-one on Sunday.

Great scores were made! One team posted a -17 under par scratch score achieved by the team of Kevan Miles, Dick Parrish, Jeff DiBenedictis, and T. Cowart.

Saturday evening was a trip to Shell Island on the Glass Bottom Boat. Carl Anderson was our host and captain. The food was courtesy of Applebee's. The sunset and weather were courtesy of God.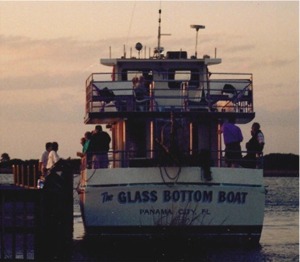 Many family and friends attended Mass Sunday morning each remembering Jeff in their own special way, joining with Judy and Chuck to celebrate what this event is really about, the needy kids who have only the Advocates to look out for them.

Sunday also was a glorious day with lots of sunshine. The golf resumed at noon with the banquet, prizes, and awards following golf.

This year there was a special honor bestowed by Advocates. The Director of Advocates told the golfers and their families about the work that was completed at the courthouse. The county sponsored remodeling was completed so that these kids, those needing advocacy, could be separated from their abusers when they came to court for a hearing. As part of this work, a room was built for these kids to wait in, and monies from the Jeff Tournament were used to purchase games, books, and puzzles for the young people. These toys and games would hopefully help the children get their minds off the proceedings and help alleviate the boredom that comes with waiting for the daunting and tedious task of going to court. The Director then displayed a large plaque, which will be placed outside the room, which will identify it forever as Jeff's Room.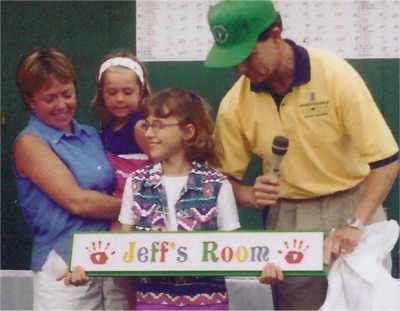 SHOOT OUT

The Shoot Out was held on Friday afternoon this year on the new 9 hole Good course. The field consisted of 20 player in two flights. The players and spectators clogged the course. The 2002 Montego Bay / Jeff Shootout Champions were as follows:
A Division:

Mike Walsingham

B Division:

Harry Lyons

SPECIAL AWARDS

The special raffle item this year which raised extra funds for Advocates for Children was an Arnold Palmer autographed print won by Pete Berberich.