TOURNAMENT HIGHLIGHTS

Do you remember what you were doing the weekend of April 25th & 26th, 1998? If you were in Panama City Beach, you wouldn't soon forget! The weather was perfect, temperatures in the mid 70's not a cloud in the sky. The Hombre Golf Course was in fantastic shape and it looked like an advertisement for an ideal Florida vacation.

The Course was as challenging as usual, and as diversified as it always is on both days, with a lot of challenges for every team member.

As in the past, prizes were available on several of the par 3's. The tournament picked up a new sponsor, as Coca-Cola sponsored #13 with Coke products to be won for putting your tee shot inside a rather generous circle on the green. A new Buick was the prize for the hole-in-one on #11 on Sunday, a golf cart from E-Z GO Cart for a hole-in-one on #3 for both days. In Addition, door prizes were as numerous as players with Grand Prize being a Resort Condominium Vacation and the airfare to one of 5 cities.

The volunteers that help make this event a success are too numerous to mention individually however we should mention that in 1998, the tournament received media coverage form Channel 7 informing the community of the type of tournament this is and the benefactors are the Advocates for Children. In fact, the same coverage was also on the Internet under local news for Panama City. This type of exposure helps benefit the tournament, which in turns helps us to raise more funds for the Children. The bottom line again in 1998, this charity received over $16,000.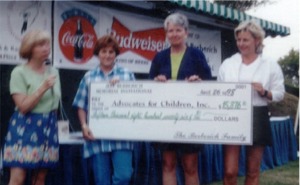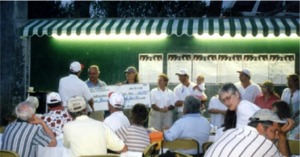 In the summer of 1998, the Berberichs' were invited to celebrate "Jeff's Fun Day", which was a day of fun for the children in a local park. At this picnic, the children received a fantasy gift purchased with some of the monies raised by this tournament.

When you attend the 1999 Tournament on April 24th and 25th, you must take time to look at the pictures taken at this event and see the unbridled joy of these children's faces. We all have a great time at the tournament, but making life a bit better for these children is really what this event is all about.


WINNING TEAM

Congratulations to the winning team of:
Bill Pilaris, Rob Burchette, Larry Arnet , & Phil Meyers.


SHOOT OUT

Richard Davis and Ken Clements won the Shoot out held on Saturday.


SPECIAL AWARDS

In addition, special prizes were awarded for the following:


Closest to the pin Saturday

#7 - Jan Hensley
#11 - Ken Clements
#13 - John Wanker


Closest to the pin Sunday

#7 - Dan McGrath
#13 - Tom Crusey


Closest to the Pin Second Shot:

#18 Saturday, Pete Berberich
#18 Sunday, Tom Crusey


Longest Drive Saturday:

#14 - Adam Harris
#10 - Mary Klunk


Longest Drive Sunday:

#14 - Chris Crusey
#10 - Terry Shackelford



Written by Tom Dean